2010
Reserve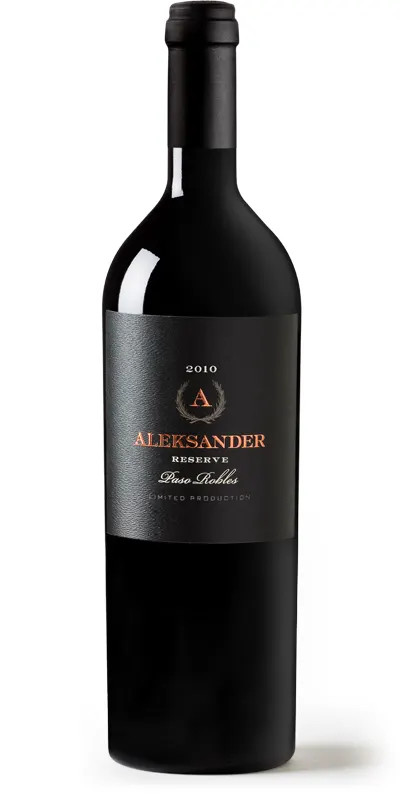 We think Aleksander is a delicious red wine, and many others—inside and outside the wine industry—have confirmed it. But we always wondered how much Aleksander would change if we let it rest inside French and Serbian oak barrels for an extra six to 12 months. So, we tried it. And we liked the result. The core of the Aleksander style was evident, but it was supported by added complexity and depth that comes from longer barrel aging.
From this trial, we decided to create Aleksander Reserve, a variation on our standard Aleksander that we consider extra special. And each year that we produce Aleksander Reserve, we fine-tune the blend to show off the best of our family estate's terroir, depending on the characteristics of each vintage. We might even blend in a tiny fraction of wine made from the exotic sousao grape, also grown on our property. Other than aging longer in both barrel and bottle, we really don't even start to create the components of each year's Aleksander Reserve until after the wine has already been aged at least 18 months in barrel. That's when we taste and evaluate every barrel and begin to put together the framework for what will become that vintage's Aleksander Reserve.
Our 2010 Aleksander Reserve is a Merlot-based blend, aged 24 months in barrel, mostly new French oak. It was also given one year to settle in bottle before release, scheduled for early 2014. The color is deep, the nose intense. The mouthfeel is lush and the fruit dark. And the tasting experience? Unforgettable.
The Aleksander Reserve is a wine to be savored slowly, with or without an accompanying food. It earns a comfortable spot in the category of luxury wine.
Varietal Composition

67% Merlot
33% Cabernet Sauvignon

Aging

24 Months

Alcohol

15.00%